×
Due to the unwelcome increase in the number of spam posts on the site it is now required for everyone's first post to be approved by a moderator.
superspats avanzato build thread (pic heavey)
04 Jul 2013 11:50
#18744
its been a lil while since updated the zato, after japfest it sat in garage for a month or 2 while i got some custom ally spigot rings made up, and they are all now fitted and wheels no longer wobbling around


i found me a corsa 1.5 VIBG ihi turbo and got it rebuilt with a ihi vq32 shaft and exhaust side and got the hybrid fitted last nite, and its so much difference than the same hybrid on the classic, i out it down to the massive fmic on the zato but lag is no worse, just pulls much harder harder at 0.6bar

i realized that i need more fuel and going to a dyno day on saturday so i found out my new sard rrfpr and set about fitting that but due to the screw in end on the fuel rail that plan came to quick halt, i pondered for a while and then went on the bodge and used the fuel feed banjo bolt and pipe from the spare ef-rl engine and that screws in tot he were the fuel reg sit, so after a bit if bodging and fiddling around i had a new fitting kit, but i stood on the sard pressure gauge and cracked it and all the oil came out so couldn't fit it, waiting to ge a new gauge so can get it fitted and set the base fuel pressure to 3.1bar with the vac hose of to get me to the dyno and then can be adjusted on the dyno,
i also got a Turbosmart Pneumatic Fuel Cut Defender for the grand total of £5 delivered so plumbed that in so the boost can be cranked up to 1.2 bar on the dyno adn set up till i can get a jam fuel cut or a blitz bcc

im hoping it gets together by sat and being realistic im hoping for between 80-100bhp at the fly and i will be happy till i get my act together and sort finish my starlet n/a inlet and can get the bloody apexi neo to work as i still cant get the correct pressure senor in and out values for the ef-rl as there is no info for my engine

will add pics of my fabricatings/bodgings when its all together and can get the car out the garage
Please Log in or Create an account to join the conversation.
06 Jul 2013 17:52
#18770
they are epic mate, given me more inspration to get motiviated and get teh skirts and arches white, and loving the pink but think i will go a bit moe in your face bright barbie pink
Please Log in or Create an account to join the conversation.
07 Jul 2013 19:56
#18781
You can use zener diod on 4.7 on the map sensor signal pin to eliminate the boost cut. Till 1.1 bar you don't need any tuning. Japanese cars are runing on 10 AFR stock which is too ritch so you can increase the boost untill you see 11.5 AFR. If you want 1.2 bar just rise fuel pressure untill you have AFR around 11.5 and you are done. You don't need apexi piggy back or anything else.
I had bigger turbo in my car and it handles well till 1.1. You just need a wideband lambda sond to check what is going on.

You can use APEXI only if you rise the fuel pressure and you must then put negative values in the table. You can't put positive values because MAP sensor is on it's maximum voltage in boost and you can't go further. You can also use APEXI neo to eliminate the boost cut.
Please Log in or Create an account to join the conversation.
08 Jul 2013 07:21
#18786
I am reading APEXI Neo manual now. Did you select sensor type "Pressure"?
"Single sensor". Sensor IN and OUT = 01. Don't connect the throttle position sensor because on daihatsu it is a switch and not position sensor. I can help you if you tell me what are your settings.
Please Log in or Create an account to join the conversation.
08 Jul 2013 10:09
#18788
i selected the pressure senor from the 4 listed senor types bu didnt have the option to select single sencor. also every wiring diagram i have found dont match my loom, but traced the centre siglan wire fromt he map sensor back to the loom, took hours of trial and error
the problem i had is my engine is not listed in the manual as im running the er-fl enigne, i have tried every listed sensor in value and 1 in the out, tried
6 in 1 out
8in 1 out
15 in 1 out
none of these worked so tried

6 in 6 out
8in 8out
15in 15 out
but no luck as we could not get it to change the signal to alter the fueling, we tried for over a hour and i gave up as ran out of time, but its runnig nice and rich as fitted a rrfpr
Please Log in or Create an account to join the conversation.
09 Jul 2013 20:48
#18808
yea my bad, ef-rl i tried the d1 diagram and its not the correct for my loom, but its installed as it should be, fitted the older safc and a emange to my starlets in the past, gonna have to trace the wire back and do it the hard way
Please Log in or Create an account to join the conversation.
30 Jul 2013 12:45
#19118
dyno day results, it was mega hot in there but still am very happy with the lil zatos afforts, had issues withe bleed valve stylr fcd messing every thing up and could run anything past 1/ 1.1bar as it tailed of,

power at the wheels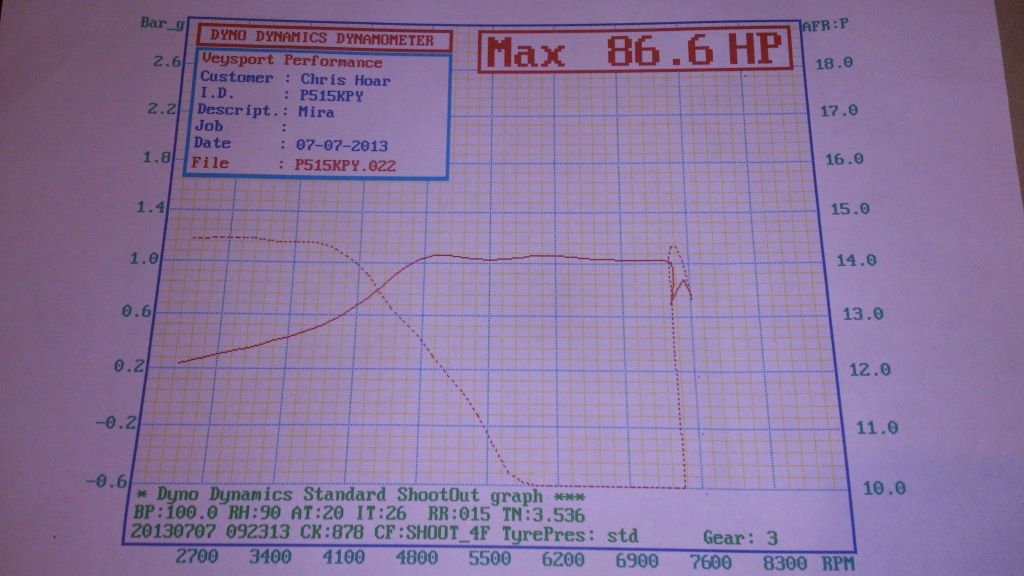 power at the fly



since then i have got a starlet JAM fcd and it wokrs a treat and will boost and boost but need to go back to check for det and raise the boost to 1.3/4bar
Please Log in or Create an account to join the conversation.
Time to create page: 0.281 seconds
You are here:  

superspats avanzato build thread (pic heavey)