The whole 3.6 yards
29 Oct 2012 10:29
#16330
Friday 30th September 2011

Little update for you all.

Few more goodies turned up the other day

Magnecor KV85's which I just got fitted this evenng after work.  little bit of a squeeze getting the spark plug cover back on after due to the extra lead thickness.  It was a bit dark by the time they were in, so no fitted pics yet.
And this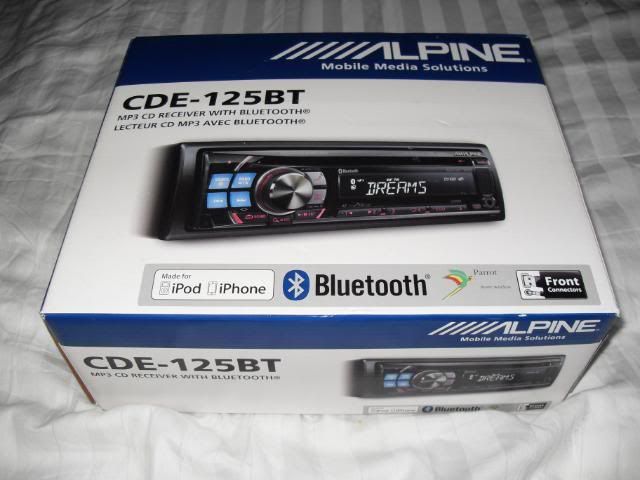 I had an Alpine 103BT in my last car, loved it and its built in bluetooth handsfree, handy USB slot, mp3 fan-dangle-ness, etc.  I'm not getting on with the JVC in there at the mo, so decided to order another 103BT.  Anyway a few weeks passed, still no stereo.  So I contacted them to see what was going on and was told it was dispatched quite a while back.  I told them that I had not received it yet.  Thankfully they said that they would get a replacement out to me.  Although, after they checked their stock and realised they had no 103's left they sent out a 125 instead, Bonus  ;D.  To be fair though I have no idea what the difference is yet 
Looks almost exactly the same and has the all important features I wanted. I'll let you all know when I find out what the difference actually is
  Sadly it isn't fitted yet as I need to order one of those Alpine aerial adapter doo dahs for it
Last Edit: 31 Oct 2012 12:17 by .
Please Log in or Create an account to join the conversation.
29 Oct 2012 10:31
#16331
Sunday 2nd October 2011

Ok, so I was lazy :K) and it was hot
All I ended up doing there was giving my dash a clean and fitting an unbroken dip stick and ashtray I got from Kei.  Nice to meet you BTW, thanks for letting me pick your brains too


I did finally manage to get a shot of my engine bay however,

Showing off the new leads
and cap
Then today, I happened upon so offcuts of bride material I had laying about 
The majority of the graduation sections had already been used and the main bits left were all black, which I think I prefer as its a bit more subtle.  So, what could I try first?  Console cover!  Ran outside with my screwdrivers,  a bit if spray adhesive and a few choice staples later and....
Its not 100% perfect, but It'll do me and it makes a nice addition to the interior
Thanks for Looking
[/quote]
Last Edit: 31 Oct 2012 12:18 by .
Please Log in or Create an account to join the conversation.
29 Oct 2012 10:32
#16332
Sunday 9th October 2011

Today I managed to get down the garage and get a few things done.

Stereo is now fitted, not greatly as the little retaining bolts were missing from the sides, but its in and working and making the crappy speakers sound better than they ever did with the old one.  I also had an led interior light bulb meant for another car, but with a bit of spreading out of the terminals I got it to fit
I also stripped down the brakes and gave everything a good wire brushing as well as a few other rusty components, swept quite a load of crap up afterwards.  Masked the discs up for painting
and decided to liven the colour of the calipers up a tad 
rusty bits of the discs went black
One of the front calipers back together
As well as all that I also got the handbrake cables changed as they were maxed out on the adjuster and I still could not park on hills without leaving it in gear and the steering turned.  Much tighter now.
Then I had a play with the dodgy speedo connector which had badly corroded terminal inside.  Cleaned them up and plugged back in.  I also took advantage of the door beeping thread as it was driving me mad.  Cut the wire for it while retaining the headlight warning.  Speaking of which, my headlights were not looking too great.  One was brighter than the other, and when you flicked to high beam the one that was bright would go dim    :
  Started by cleaning the earths nearest the lights, but no change.  In the end it turned out to be a dodgy fuse. 
Last Edit: 31 Oct 2012 12:19 by .
Please Log in or Create an account to join the conversation.
29 Oct 2012 10:33
#16333
Tuesday 11th October 2011

More goodies!

Coilovers turned up today.  First things first was to strip them down and grease the threads up in preparation for our lovely UK roads.
While I was there I also double checked the preload and was lucky I did.  The fronts were ok at 3mm, but the rears were all over the place with one at 8mm and the other at 5mm.  Now all reset to 2mm all round, and I also double checked the even-ness of the ride heights so there all ready to fit.
Will most likely need a bit of height adjustment when on, and once more once they have settled in a bit.  Eagerly went to fit the fronts earlier, but the front anti roll bar links are rusted to buggery and just spining which is not allowing me to get the strut over far enough to get on the nut to split the lower arm, grrr  >
  So I gave up and will attack again at the garage on the weekend. 
Last Edit: 31 Oct 2012 12:19 by .
Please Log in or Create an account to join the conversation.
29 Oct 2012 10:34
#16334
Saturday 15th October 2011

Yay!  I went to the garage today


Firstly I got my replacement caliper off Kei fitted, thanks for that.  Not sure I've seen the canvas sock things you mention, hopefully the copper grease should go some way to helping things move when needed.

Then once that one done and bled up, I could remove these

Lovely condition, mmm :
Then the good stuff could go in 
A front fitted
Rear
Got the wheels back on then checked the ride height out. 
Front was looking a bit too low for my liking, still need to be able to mount the evil that is known as "the speed bump" ;D
We jacked it back up and raised the front 10mm and rechecked
And the rear height
Arch gap is literally milimeters with the current 185's on there
It was getting a bit dark, but I managed to get a few pics to see how she sits
I set the dampers to max and went for a spin, too hard.  Backed it off ten clicks and went for another spin better but still a tiny bit firm so I went for another 5 softer and left it there.
I got the idle control soleoid thingy striped down and rebuilt with a rubber ring too.  So no more tappy tappy on idle
Also attempted to fit the speed de-limiter, but I'm not 100% its working yet.  Does it change the actual reading on the speedo when its working?
The drive home lovely, no boaty pitching or un-needed bouncy-ness.  I could feel all the bumps in the road, but it is smooth with it.  I also managed to get over the speed bumps I encountered on my travels, few larger ones to tackle yet, but so far, so good
Last Edit: 31 Oct 2012 12:20 by .
Please Log in or Create an account to join the conversation.
29 Oct 2012 10:35
#16335
Sunday 23rd October 2011

Since you last see me I have carried on softening the damping.  Now around 10 from soft on the front and 7 on the rear.  Being such a light car it doesnt need to be over damped, although I would say if I was going out on track I would probabbly go for about 14 clicks, but for general road use I think I getting quite close to settings I am happy with.  Also had a bit of chassis scrape (gets the rust off ;D ) on a rather large speedo bumpu :
  Now raised it another 8mm all round. For some strange reason my 185 tyres are also 55 profile which isn't helping matters.

So this weekend I stayed at home and had a little play with minor body mods.  First off:

De-oranged the indicators, used a hair dryer to open gave them a quick clean inside and then heated the glue back up and they resealed well
Back on the car, the right way around as the writing on them was upside down when i took them out.
After that I turned my attention the the aerial, which I'm not overly keep on, so removed it and its base and refitted this in place
Also note my little BC badge I added
Thats it
  I'm now off to give her a nice wash 
Last Edit: 31 Oct 2012 12:21 by .
Please Log in or Create an account to join the conversation.
29 Oct 2012 10:36
#16336
Saturday 5th November 2011

Moar Changes!

I got hold a centre console insert as mine was cracked and broken.  Added some bride off cut I had left over

And popped it in
Annoyed at the lack of clock in the cap I purchased this from ebay
It comes with a cigarette lighter adapter, but I choose to cut it off and hard wired it in.  It also has an inner and outer temp sensor so I routed the outer sensor to somewhere where I thought would be good for an accurate measurement.
See a use for the wing vents!  A quick clean of the surface and stuck it on
And hidden away again
I have also noticed I have been getting a bit of a wet seat  :
  Turned out one of the seals isn't at its best on the roof, so I gave it a good clean out and cleared my drain channels.  If that doesn't fix it I have go see how much Mr Suzuki wants for some new ones
Next up, got this
Routed the piping though this grommet
Stuck it here in a universal pod for now
As I had expected, it revealed that I was only boosting to 9psi,  I suspected that due to slightly leaky tubby gaskets I noticed the other day.  Luckily I had one of these laying about.  Intended for the Evo but I never fitted it. 
Stuff like that comes in handy when moving from one turbocharged car to another
As you know, space is at premium in here, so it now resides in the glovebox complete with filter
And the solenoid got monted here
I had some red hose left over so......
Then got stuck in ;D
And then I ran out.  Managed to do the majority of hoses in that size though
Will have to get a bit more now to finish off.  Looks like red is fast becomeing my accent colour.
Quick mess about and I got the boost back up to 11psi.  I will do the tubby gaskets soon too, dont worry.  More fine tuning tomorrow, but I think I will aim for something like 12psi on the low setting and 13 or maybe 13.5 on the high one with my standard ecu.
Thanks for looking 
Last Edit: 31 Oct 2012 12:21 by .
Please Log in or Create an account to join the conversation.
29 Oct 2012 10:38
#16337
Saturday 12th November 2011

Back down the garage again
But before I show you what I have been upto this week, I'll just run though my boost issues I'm having :
I have two settings on the controller one is set to 5% gain (the lowest setting) and the other 35% (the highest)  both produce 11.5 psi 
  So I did a bit of searching on the forum and found a couple of culprits to check.
Firstly though I chopped
that
bolt
And how it looks fitted, still a bit of poke but much better than before
Then turned my attention to one of the possible culprits mentioned earlier.  The dump valve.  I got a blanking plate made up.
And fitted it along with a makeshift plug for the pipe
I also bought some more red hose to finish the job I started last week
Did a bit more
How its looking now
And the result?  It feels a tiny bit better in that its not fluctuating as much now, but its still not producing the right amount of boost so it must be something else.  Possibly a lazy actuator?  I think I'll start a thread in technical and see if I can get to the root cause of it.
Anyway thanks for looking and I will leave you with a little photoshopped pic I was messing about with editing these pics 
Last Edit: 31 Oct 2012 12:22 by .
Please Log in or Create an account to join the conversation.
29 Oct 2012 10:39
#16338
Sunday 4th December 2011

Time for an update!

In the end we got the boost stabilized now which is nice.  Even hit fuel cut a few times along the way


I finally managed to get my car on the ramp an see how bad the rust is.  Here is one of the holes to do

Something similar on the other side too
My brakes were still making a scraping noise here and there, so went for a full strip down of the discs and refreshed the knuckles too.
After a wire brush
Zinc oxide primer
They then went black but forot to get a snap  :-/
Then ripped my interior apart
My electrics were still playing up and we found that the seat belt mount was chaffing the loom and a few dodgy twist and tape repairs were found and fixed.  The loom was also re routed and lengthed a bit to avoid an contact problems with the belt or the seat in the future.
It was all wrapped up and protected after.
Also note rust inside
Other new additions are a pair of 6x9 speakers fitted in their own little custom boxes on the rear shelf,  sadly again I'm a bit low on the picture front
Oh and not literally 20 mins ago I just won an N2 and injectors off the bay!!  Cant wait for that to turn up
Last Edit: 31 Oct 2012 12:23 by .
Please Log in or Create an account to join the conversation.
29 Oct 2012 10:40
#16339
Sunday 11th December 2011

Amassed some parts for another stint at the garage


Namely N2 ECU, 295cc injectors and gaskets to do the tubby. 

Another little niggle I have had recently is the inability to fill my tank fully for some reason.  Some kind of air lock in the tank would stop you getting more than two thirds of a tank in there at a time.  I had read on here that the filler can get a bit rusty and block up, but when we checked it it was all ok.
I think the poblem lies with the breather pipe, which I believe runs back to the carbon canister, so it could be that at fault, or the metal lines have rusted away.  Had more important things to do, so left that for another day and moved on.
Removed the all the gubbins.
While the manifold was off I noticed that there where alot of steps and lips in the castings around the ports, so I decided to gently port match the manifold so the gaskets lined up better.
Also did the head ports.
While the cat was off.....it would be rude not to
I also found another lip at the bottom flange of the cat too.
Ground it down.
I fancied tiding up the rusty iron look to the exhaust components.  I would have gone red but used it all on the brakes, although I had some VHT "silver" paint to hand so used that up
Actually looks more grey than silver IMO but its tidier than rust at least
While the tubby was off I think we discovered the real reason my boost isn't as stable as I like and why I only get 9psi when run purley off the actuator
4 cracks in total, you can just make the fourth one out following the outter circle of the wastegate seal.  Most likely down to previous owners not letting things cool off propperly before turning the enigne off
So a matching tubby for the N2 will be coming sooner than thought.
Got it all bolted back together ready to refit.
Manifold back on minus heat shield due to snapped bolts
The whole underside of my car, including any and all components apart from things I have touched, is coved in a thick layer of tar like underseal.......or rust
  Even things like the aluminium exhaust heat shield got it.
So while it was off I gave it a dam good scrubbing and it came up like this.
The rest of the exhaust system had a few blows on the welds and  missing gaskets, so we did what we could for now
Refitted all of it.
Then on to the injectors and ECU.  Old and new next to each other.
Popped in
And the results?  She sounds an octave meaner now, and idles camly. strangely sounds a bit more content with herself ;D  All the engine noise now actually exits through the tail pipe, which is nice
  I have yet to take advantage of adjusting the boost up to its full potential, which I will most likely do later today, but she easily went off the clock on the way home
  All in all, I'm pleased with the days work.
Last Edit: 31 Oct 2012 12:23 by .
Please Log in or Create an account to join the conversation.
Time to create page: 1.881 seconds
You are here:  

The whole 3.6 yards